Nanzenji Temple (南禅寺, Nanzen-ji) is a temple in the eastern part of Kyoto which dates back to the late 13th century and today serves as the headquarters of the Nanzenji branch of the Rinzai sect. It was originally a palace retreat for Emperor Kameyama, built here in 1294 because he admired the beauty of the area, but it was converted to a temple in 1291 after he became a student of the Zen Master Busshin Daimin Kokushi. Nanzenji has expanded over the course of time, but like many other temples fires and disasters have claimed the original structures—the oldest buildings visitors see today have stood since the 17th century. Today the precincts of Nanzenji are a nationally designated Historic Site.
There are numerous structures and features in the temple's spacious grounds. While Nanzenji's grounds are free of charge, separate fees are charged to enter the temples and sub-temples.
Sanmon. One of the largest wooden gates in Japan and the main entrance to Nanzenji was built in 1628 in memory of those who died in the Siege of Osaka, a series of battles which took place in 1614-15 and saw the demise of the Toyotomi clan and cemented the Tokugawa shogunate's rule. Visitors can climb to the stairs to the top of the gate for views across the Nanzenji complex and Kyoto City to the west. The current structure has stood since 1628.
Hōjō. The main hall of Nanzenji famous and the centerpiece of the temple grounds. It is famous for its gardens, which are a designated Place of Scenic Beauty, and sometimes called the "Leaping Tiger Garden" because its rocks are said to resemble tiger cubs playing in the water, as well as the paintings on the sliding doors (fusuma). A separate admission fee is required to enter the gardens.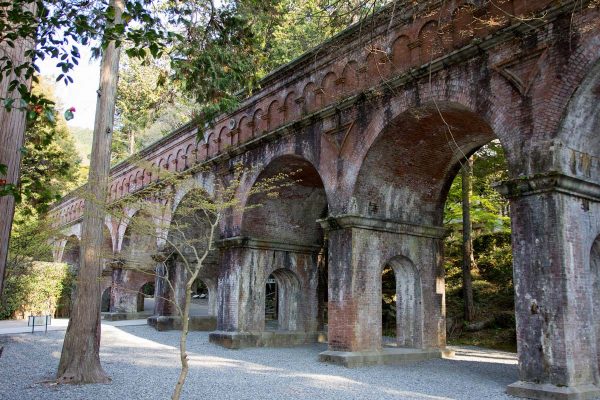 Other notables structures include the much-photographed aqueduct which runs through the temple grounds was constructed during the Meiji period to bring water to the city, as well as Nanzen-in (南禅院), a small sub-temple which includes a garden and houses a mausoleum to Emperor Kameyama (separate admission fee charged).
Nanzenji is one of the most popular temples to visit during the autumn season when the colors change (typically mid- to late November) and certain areas of Nanzenji are illuminated at night.