Japan—and the regions around Tokyo in particular—have quite a number of different types of accommodation, from Western hotels to traditional Japanese inns. Below is a quick run-down of what you can expect and how much they cost.
Western Hotels
Your Marriots, Radissons, Hyatts, and so on. Not much needs to be said here: they are pretty much as you would expect in any other major city. Prices fluctuate heavily throughout the year with the cost of hotel rooms doubling or even tripling during the cherry blossom season, but approximate prices per double room per night for central Tokyo outside of the peak seasons are given below.
3-Star: ¥10,000-15,000 ($68-102)
4-Star: ¥20,000-25,000 ($136-170)
5-Star: ¥30,000+ ($204+)
Business Hotels
While these might conjure up images of the usual perks associated with business class, they are primarily targeting Japan's itinerant workers. Client relationship building and maintaining is everything in Japan, and salesmen will often spend a lot of time on the road visiting and entertaining clients and customers. Staying at the luxury hotels every night wouldn't go down well with the budgeting department—and in regional Japan and the smaller towns this wouldn't be an option, anyway. This is a gap in the market that the Japanese business hotel fills. Functional, clean, basic hotels, often located next to the train stations that offer small rooms for about ¥6,000+ ($41+). They will be a little more expensive in tourists centers, but they offer a good alternative for tourists who just want a basic and reasonably priced hotel room.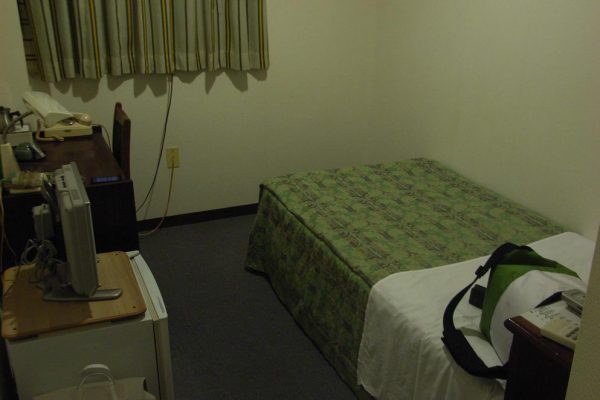 Youth Hostels
Tokyo does have them. And budget hotels have been springing up increasingly around the capital as the shortage of hotel rooms has had prices going up and tourists looking for alternatives like AirBnB. Some have great locations, nice decor, and trendy bar/restaurants, considerably blurring the line between hotel and youth hostel. Prices for a dormitory room start from around ¥3,000 ($20) per night.
Ryokan
Ryokan are Japanese inns that have been catering for travellers and tourists long before the Western hotels and business hotel chains laid their first brick. It wouldn't be right to only give them a brief introduction so see here for more about these sanctuaries of Japanese omotenashi.
Capsule Hotels
You've probably heard about these and maybe even seen a photograph of a morgue cold chamber-like drawer into which a living human is supposed to spend the night. In fact, they are convenient, comfortable, and cheap; although some do complain about noise from other guests coming back late or shuffling through luggage in the morning. Because tourists increasingly want to stay in them "just for the experience" more and more luxurious varieties have been popping up around the capital. You should find communal baths and restaurant serving breakfast in most establishments. Prices start from about ¥4,000 ($27) per night.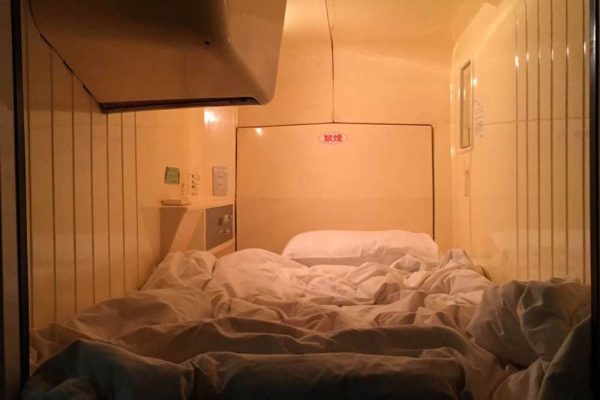 Love Hotels
The prevalence of love hotels in modern day Japan has roots in the post-war era when there were increasing reports of public sex as a result of the number of couples who had lost their homes and had nowhere else to go. Even those with a roof over their head were living in cramped accommodation, often sharing a room with relatives or children. The early love hotels (called tsurekomi-yado or "bring-along inns") came about as a result of a demand for privacy. Nowadays this privacy issue has largely (but not entirely) disappeared and love hotels exist more for excitement than convenience. Dogenzaka in Shibuya is known as "Love Hotel Hill" and is the easiest place to find them.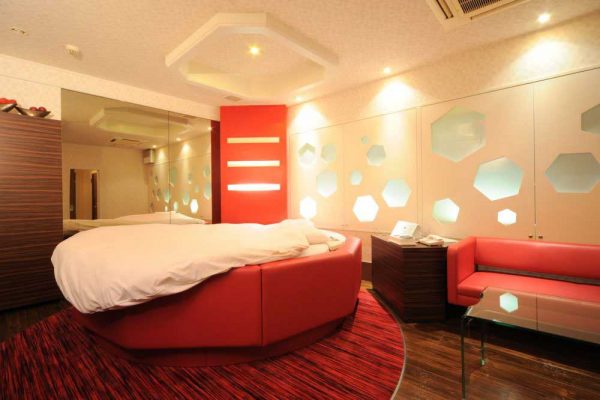 Prices vary, but one night is around ¥9,000 ($61) while a 3-hour "rest" is about ¥3,000 ($20). While these prices compare favourably with hotel chains, you should note that most establishments have a "no re-entry" policy (the room, okay?), so they are not ideal for anything more than a one night stay.