While there many types of restaurants in Japan (e.g. those that specialise in grilled meat, others in soba, etc.), these are essentially defined by what they sell. In all other respects, they are standard restaurants: you walk in, you seat down, you eat, you pay.
The overview below is designed to give you a feel for general classifications of restaurants in Japan, so you know what to expect or in the case of kaiten-zushi (conveyor belt sushi) restaurants, for example, how the system works.
Family Restaurants
No prizes for guessing the target clientele here. They are (fairly) cheap restaurants with phone book menus offering a varied selection of Western and Japanese foods. Apart from families, students will often study at the tables and in the booths because they're cheap and all have a "drink bar" where you can help yourself to as many soft drinks and cups of tea and coffee as your bladder can handle for a few hundred yen. While they certainly aren't the place to go to experience Japanese cuisine, they are convenient (most are 24/7) and cheap. There are several family restaurant (often called "famiresu") chains in Tokyo. Perhaps an option to consider in the morning so you can grab breakfast and plan your day on the tables. The free-flowing coffee should help.
Japanese Chain Restaurants
This one is a bit of a catch-all, as there are many chain restaurants in Japan that could be classified as fast food (they're fast and cheap). Firstly, you do have your Japanese versions of that ubiquitous fast food franchise, McDonald's: Mos Burger and Freshness Burger. Both are a little more expensive than McDonald's, but (in my opinion) the quality is much better (you get your delicately prepared hamburgers in small wicker baskets, which is a nice touch).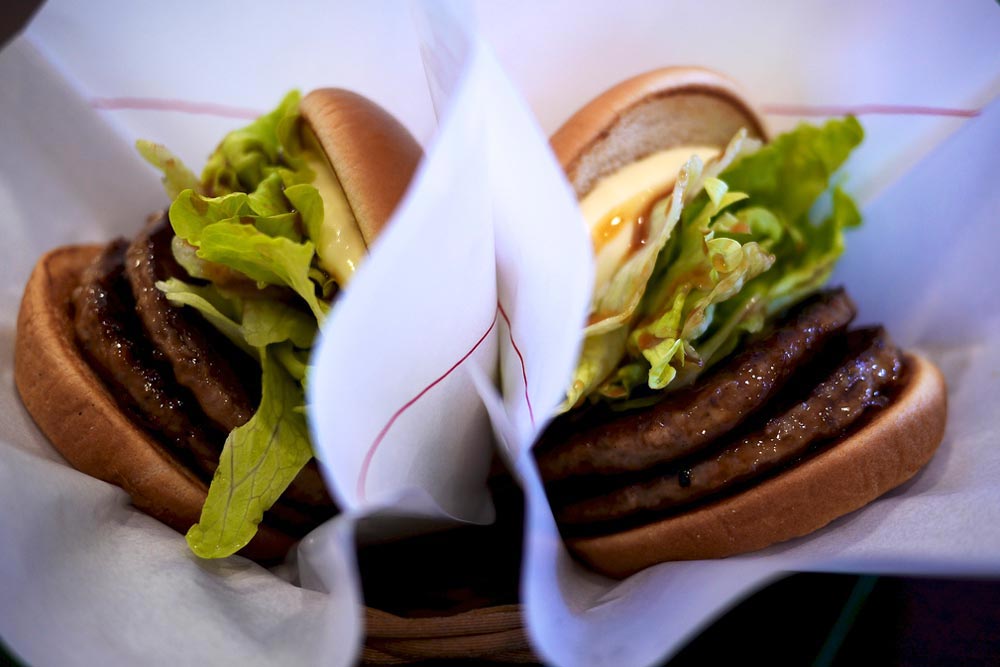 But more generally there are a huge number of curry restaurants, gyoza restaurants, Japanese chain restaurants that serve good meals for around ¥1,000 ($7). Places like Yayoiken (やよい軒), Otoya (大戸屋), and Osho (王将) can be found throughout the country and are the equivalent of America's Applebee's, Chipotle Mexican Grill, Pizza Hut, etc.
Izakaya
Informal Japanese gastropubs. Basically, casual eateries with cheap drinks and a varied menu. They get their name from the fact that Japanese used to drink in liquor store itself, and over time these establishments turned into restaurants offering snacks and other food along with the alcohol. Indeed, the kanji for izakaya (居酒屋) means "stay", "alcohol", and "shop".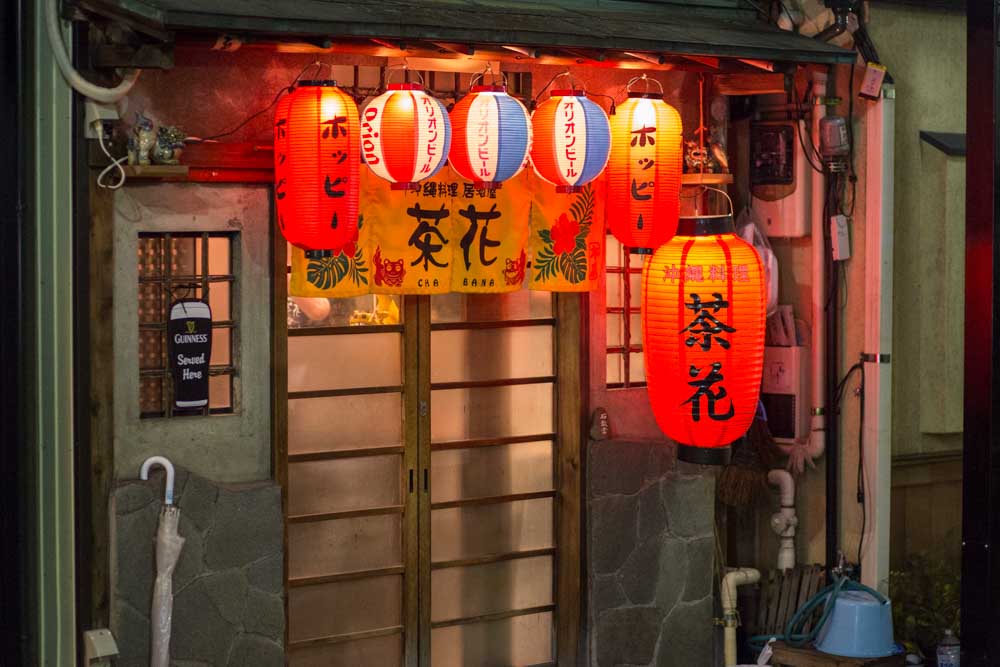 In the post-war era, they were strongly associated with boisterous male-groups of office workers who piled into the smoky premises after work and drunk until the last train, but that image is (to some extent) less true today and the chain izakaya will offer a more varied drink menu to capture clientele of both sexes. For tourists, the chain izakaya are good places to get a sense of everyday Japan and a to try different Japanese finger foods—the menu is often 20 pages long and filled with photographs (the bigger chains should also have an English menu if you ask).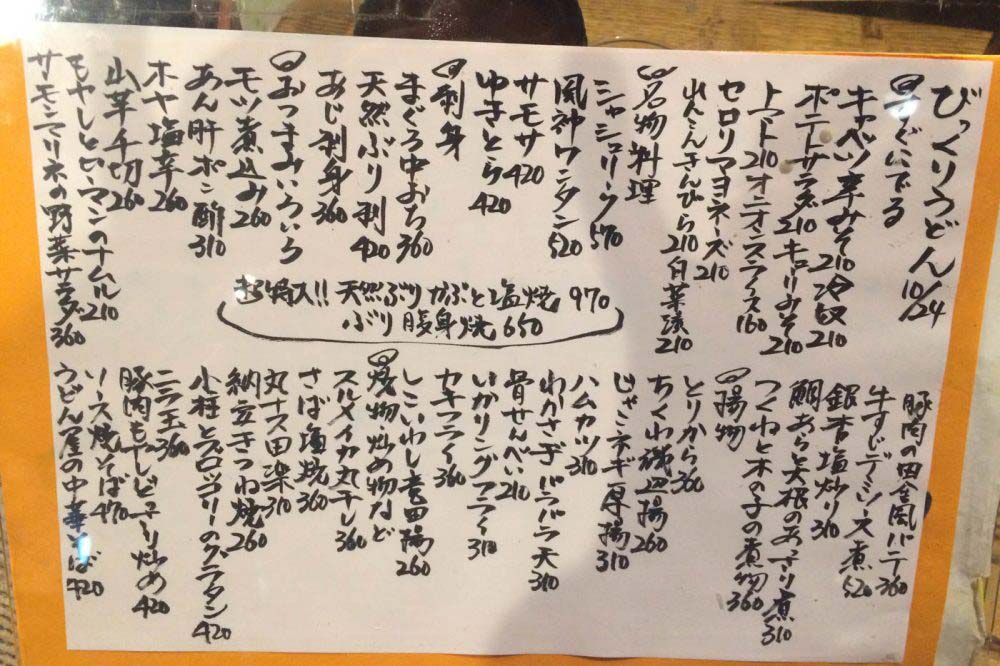 But if you want to truly mingle with the locals you're best going to one of the smaller izakaya that are found in the backstreets of places like Shimbashi. They might not have English menus and you typically need to shout to order, but there is definitely more of a sense of being in Japan.
Kaiten-zushi
The rotating conveyor belts loaded with plate after coloured plate of sushi are famous the world over, and a visit to a kaiten-zushi (literally, "rotating sushi") restaurant is on many tourists checklist of things to do. The system is simple and efficient. You take a seat at the counter and take whatever you fancy from the belt in front of you. The plates are colour-coded, each colour representing a price for that dish (which will be up on the wall somewhere, usually only in Japanese). But don't worry—these places are not expensive. Around Shinjuku, for example, you can find many kaiten-zushi restaurants that start at ¥100 ($0.68) with the most expensive dishes costing around ¥300 ($2.03). As you eat you stack the dishes up one on top of the other so that at the end they can be counted by a member of staff to calculate the bill.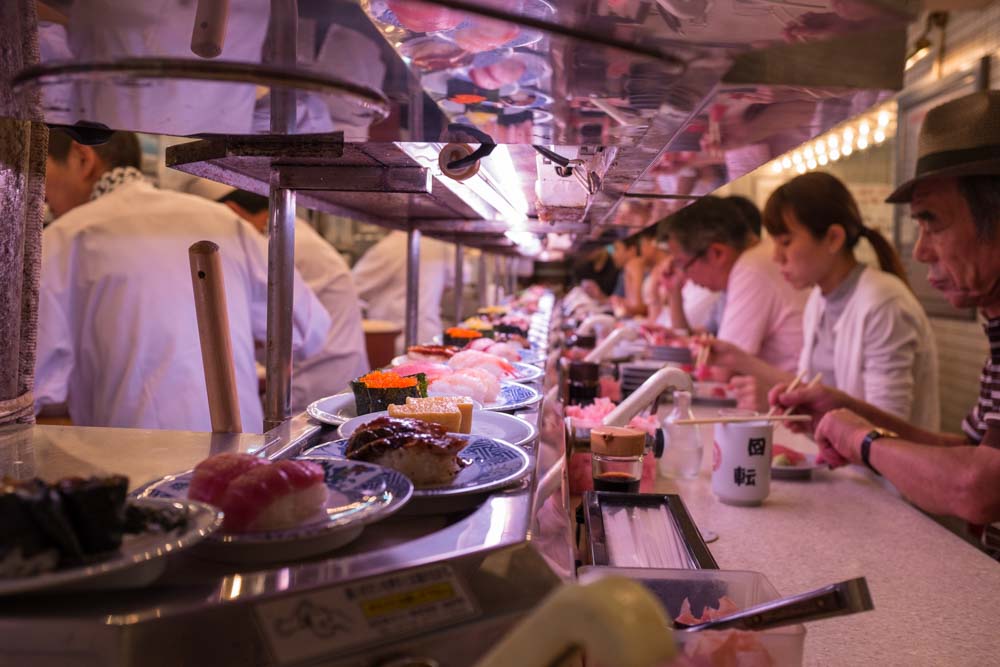 In front of you should see small plates for soy sauce and some slices of ginger. There will also be a faucet for hot water and green tea bags somewhere along the counter. These you can take for free to make yourself a drink. Just because you have all this sushi whirling around before your eyes doesn't mean that you have to take from the conveyor belt. If you want something, you don't have to wait: just ask the chefs to prepare it for you.
Kaiten-zushi is like a "traditional" Japanese fast-food; you will not find a conveyor belt at the more expensive sushi restaurants in the capital. But they're a great experience and the quality is usually good.
Kissaten
Kissaten (喫茶店) are Japanese tearoom-cum-coffee shops. Unlike the Western coffee chains such as Starbucks, they edge into restaurant territory by offering a limited menu mainly consisting of sandwiches and sweets (plus you order at the table). They pride themselves on their coffee, however, and the menu will offer several blends, some costing over ¥1,000 ($7) per cup!
Ramen-ya
"Ya" is the phonetic for the kanji 屋, which means "shop" and is often appended to foods to denote the type of restaurant. For example, a soba-ya is a soba restaurant, a yakitori-ya is a yakitori restaurant, and so on. So ramen-ya sell ramen. Why I single them out here is because unlike standard restaurants you order from a ticket machine located near the entrance. This system lessens the burden on the staff (all staff will be in the kitchen reaching over the counter to clear away empty bowls) and, ultimately, gets customers in and out the door quicker.