In 1695 the fifth Tokugawa shogun, Tokugawa Tsunayoshi, gifted his chief counsel, Yanagisawa Yoshiyasu, almost nine hectares of flat land. With this gift Yoshiyasu moved earth to create a hill, dug a pond, and constructed paths to build a garden that expressed his love of poetry. It took Yoshiyasu seven years of toil to turn his imagination into reality and Rikugien (六義園), which translates as the "six tenets garden", was born. The name comes from the "six tenets of poetry" written in the preface of the Kokin Wakashu (an anthology of waka poetry), and Yoshiyasu's idea was to have scenes in the garden represent passages in the book.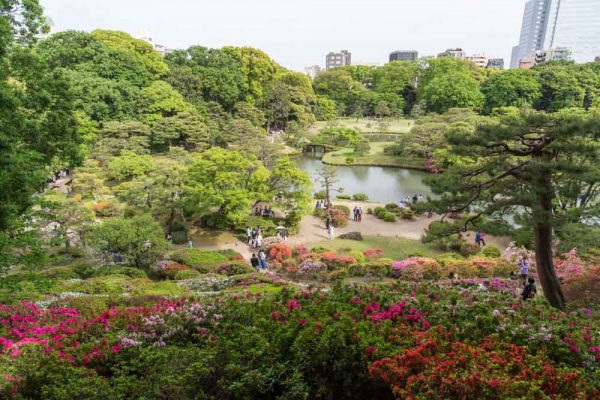 The garden was used as a place of residence for the Yanagisawa family for the next 166 years, slowly becoming overgrown as the years passed. However, in 1868, the year of the Meiji Restoration, the land was purchased by the Iwasaki family—the founders of Mitsubishi—who restored the garden to its former glory and built the red brick wall that we see today around the circumference. The grounds were donated to Tokyo City in 1938 and subsequently opened to the public.
Unscathed by the Great Kanto earthquake of 1923 and untouched by the air raids of World War II, Rikugien stands today just as it was first imagined by Yoshiyasu over 300 years ago.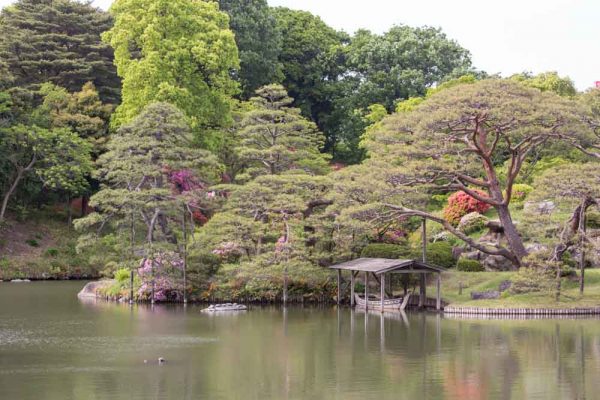 Light-Ups
In late March when the cherry trees blossom and again in November when the leaves turn red, Rikugien hosts an evening light-up—illuminations strategically placed around the garden to show the colors in all their natural glory. The popularity of the event means that you will have to queue for entrance to the garden, and then be shuffled along in a line once inside, but the sight of the colors at night is truly spectacular and a must for any nature-lover.