With over 9 million people living in the 23 special wards and sightseeing spots in all parts of the city, knowing where to base yourself can be difficult. Tokyo's world-class transportation network means that, in some respects, so long as you are relatively central and near a train station, it really doesn't matter. That said, those coming for the nightlife would probably like to be a short taxi ride from the hotel, and, of course, budgets are a limiting factor.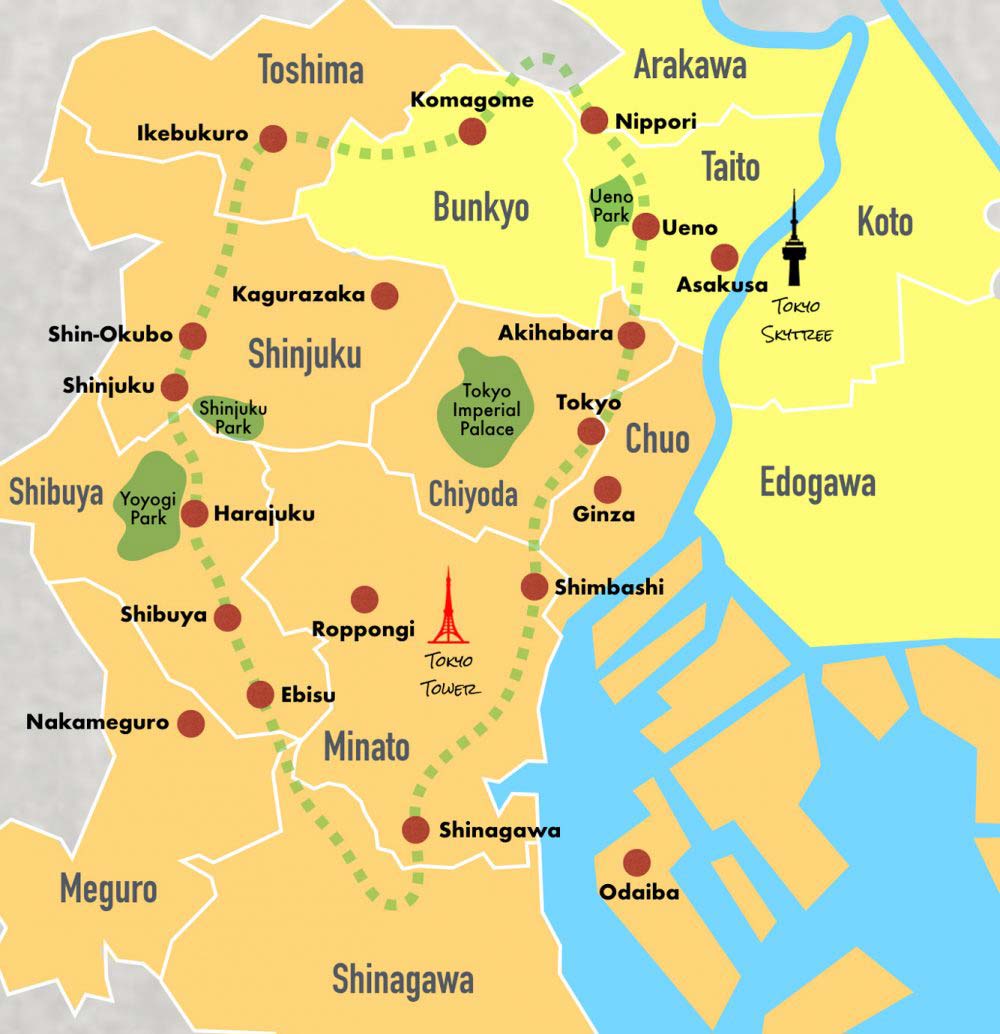 Convenience
The area around Tokyo Station and towards Ginza is the best place to stay if convenience is your priority. Geographically, it is between old Tokyo and the newer areas of Shibuya, and easy access to the Chuo Line means that you can get from one side of the city to the other in no time at all. Tokyo Station is also the main station for the Shinkansen.
The area is also home to some of the best restaurants in the capital, and Ginza is one of—if not the—most famous shopping district in Japan. Shibuya and Shinjuku are also excellent options, and possibly more popular because tourists see the neon billboards and dazzling lights and decide that they want to be in the thick of it.
Two notes of caution should be sounded about Shinjuku, however. Firstly, Shinjuku Station, the world's busiest, is also, unsurprisingly, one of the most well-connected with all the major train lines running through it. The problem is finding them. The station is a sprawling maze of entrances, exits, and underground walkways that can be confusing to even the most veteran commuter. It is in fact not one station but multiple stations that have seemingly been bolted together without much thought for logistics. Yes, you can get to most places from Shinjuku Station without a change, but getting on the train can often be a frustrating process. Secondly, it's worth noting that many opting for Shinjuku end up staying in West Shinjuku, in which case the nearest station is not Shinjuku Station but some smaller hub.
On a Budget
Asakusa is an excellent option for those on a budget due to the number of hostels in the area. The drawbacks are distance from central Tokyo (it is 30 minutes to Shibuya or Shinjuku) and poor transportation links (only the subway). Hostel prices typically cost about ¥4,000 per person per night. Other options that are closer to central Tokyo include Takadanobaba, Gotanda, Shinagawa, and Jimbocho.
Nightlife
The main nightlife districts are Roppongi, Shibuya, and Shinjuku. Roppongi and the surrounding areas will be expensive, but if you want to base yourself there then you should check out Hiro and Azabu-Juban—both upmarket districts, walking distance to Roppongi with many chic cafes, restaurants, and bars. It's worth remembering that so long as you are staying in central Tokyo a taxi ride home in the early hours of the morning shouldn't cost more than ¥4,000, and finding one at any hour in the nightlife districts is not a problem.