Kinkakuji (金閣寺, "Temple of the Golden Pavilion") is one of the most iconic temples in Kyoto and is a designated National Special Historic Site, National Special Landscape, as well as a UNESCO World Cultural Heritage. The pavilion itself is a three-story structure, the top two floors of which are entirely covered in gold leaf. Visitors are not allowed to enter the actual building, but can view the pavillion from various angles as they follow the path around from the entrance. Officially, the temple grounds are called Rokuonji (鹿苑寺, "Deer Garden Temple").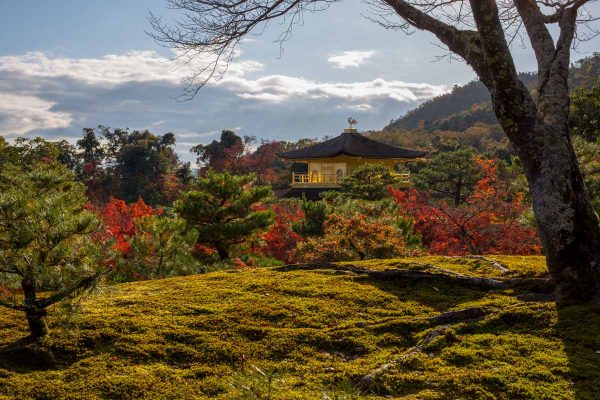 Although the history of Kinkakuji dates back to the end of the 14th century, the pavilion itself has been burnt down a number of times over the centuries—most recently in 1950 by a 22-year old fanatical monk—and the structure that you see today was completed in 1955. Originally, the grounds were purchased for the shogun Ashikaga Yoshimitsu and were later converted into a Zen temple by his son.
The path around the grounds starts at the Kyoko-chi pond, on the other side of which stands the pavilion. This photo of Kinkakuji from across the water is the most well published and appears in just about any guidebook of Kyoto. From here, the path leads to the former living quarters of the head priest, before passing the pavilion from behind on the way to the temple's strolling gardens. The path then continues up the hill behind the temple to the Sekkatei Teahouse (夕佳亭), providing some excellent views of the pavilion from above.