Kenrokuen (兼六園, kenroku-en) in Kanazawa is regarded as one of Japan's three most beautiful gardens along with Kairaku-en in Mito and Koraku-en in Okayama. It was founded and developed over the years by the feudal lords (daimyo) of Kaga (the current southern part of Ishikawa, the prefecture of which Kanazawa is the capital) between from the early 17th century to the mid 18th century. The garden was first opened to the public in May 1874 and today is a designated National Site of Special Scenic Beauty.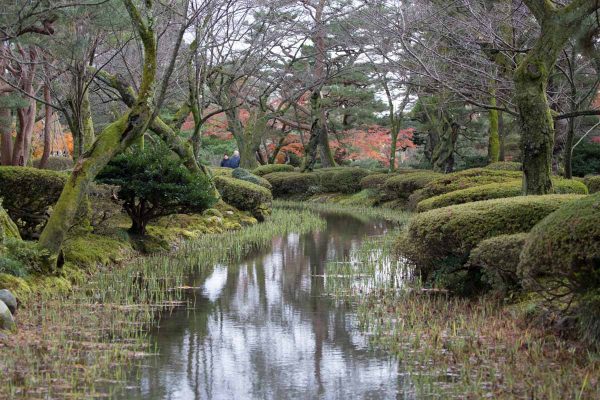 Partly due to the extensive period over which it was built, the garden incorporates a number of garden styles, and includes large ponds, hills, bridges, tea houses, and a variety of flowers. "Kenrokuen" literally translates as "Six Attributes Garden", in reference to the Chinese way of designing gardens which said that there would be six qualities in a landscaped garden. These six qualities can be paired together with their compliments: "Spaciousness & Seclusion", "Artifice & Antiquity", "Water views & Panoramas".
Notable features of the garden are the two-legged Kotoji Stone Lantern on the northern bank of Kasumigaike Pond, an icon of the park often featured in travel guides, and the fountain at the north end of the park powered by the natural water pressure from the higher level Kasumiga-ike Pond. This fountain is said to be the oldest in Japan.