May 15 / 10:30 AM
〜
5:00 PM
The Aoi Matsuri (葵祭) or the "Hollyhock Festival" is one of Kyoto's three major festivals (the others being Gion Matsuri and Jidai Matsuri) and is held on 15 May every year. It is an excellent chance to see Heian Period costume, as approximately 500 parade members make their way from the Imperial Palace to Shimogamo Shrine and Kamigamo Shrine.
The festival's origins are thought to date back to Emperor Kinmei (CE 539-571). Around that time, the country was ravaged by hard rain, typhoons, and poor harvests, so an imperial envoy was dispatched to offer prayers to the deities at the two shrines. Following this, the rains stopped and the crops began to grow again—a turn of events accredited to the gods.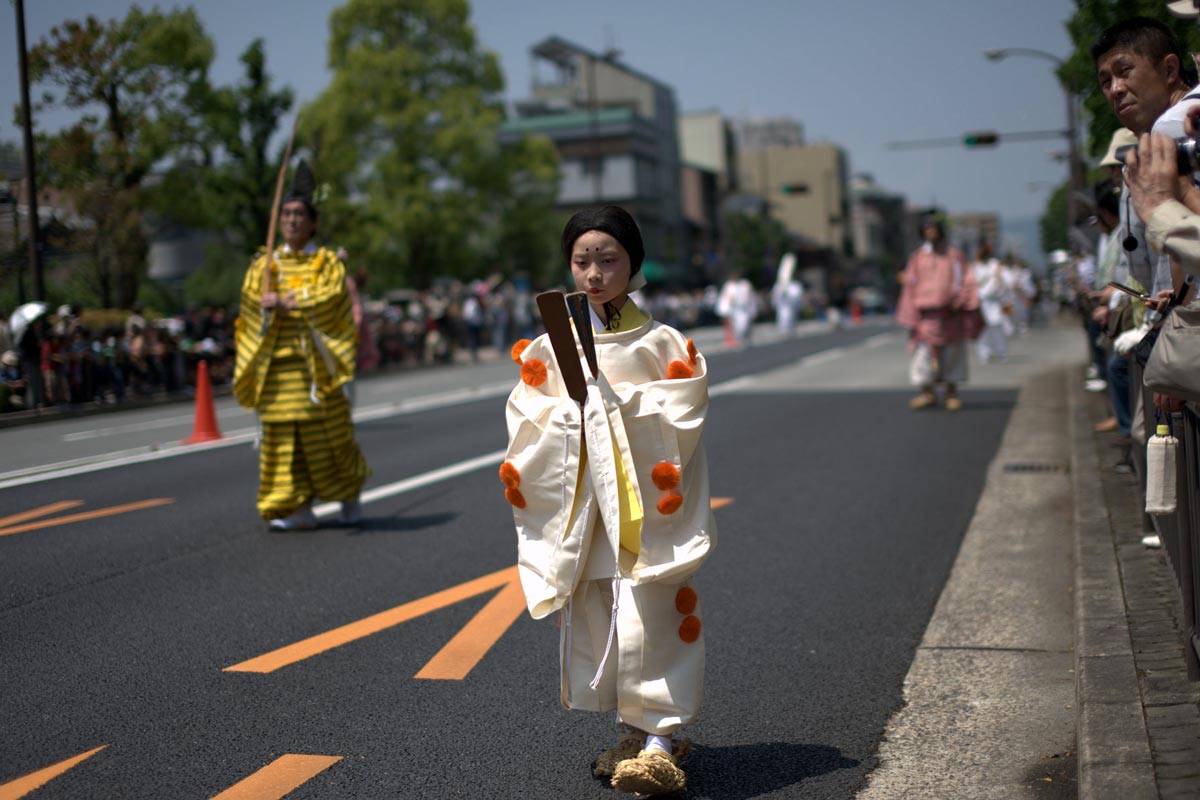 Over the subsequent years the festival grew in size to the point where in the city of Kyoto the word "festival" simply referred to the Aoi Matsuri. Today, the parade is led by an Imperial Messenger who is followed by a entourage consisting of men on horseback, ox-drawn carts, cows, hundreds of parade members and the Saiō-Dai (斎王代)—the other main figure of the parade. Traditionally, the Saiō-Dai was chosen among the women of the Imperial Family to dedicate herself to the Shimogamo Shrine, performing rituals and ceremonies. Today the role is performed by an unmarried woman from Kyoto, but she must still go through many purification rituals before being allowed to put on the traditional 12 layer kimono (which weighs 30 kilograms in total).
The Aoi Matsuri has kept its form for over 1,400 years despite extended periods of suspension (including one for almost 200 years) and for this reason it is one of the city's most cherished festivals.
The parade starts at 10:30am at the southern gate of the Imperial Palace before heading east along Marutamachi-dori towards the Kamo River. It reaches Shimogamo Shrine around 11:40am where ceremonies are performed before the parade departs again at 2:20pm and moves northwest (crossing the Kamo River twice along the way) to arrive at Kamigamo Shrine around 3:30pm.
Paid seating is available for about ¥2,700 at the Imperial Palace and Shimogamo Shrine, but if you want to see the parade and ceremony for free be prepared to arrive early. Enquires about paid seating should be made to the Kyoto City Tourism Association (see here for details—Japanese only).