Jul 1, 2024
〜
Jul 31, 2024
Kyoto's Gion Festival (京都祇園祭, Kyoto Gion Matsuri) is the city's biggest festival and one of the most famous in Japan. Centered around Yasaka Shrine, it has roots dating back to 869 when the people of Kyoto held a festival to pray for respite from a plague that had befallen the city. Today the festival lasts for the entire month of July but it is the Yamaboko Parade (山鉾巡行) on the 17th and 24th which provides the focal points. The parade on the 17th is the original and sees about 20 floats take part. The procession on the 24th became an annual fixture from 2014 and is smaller in scale with about 10 floats pulled along the streets.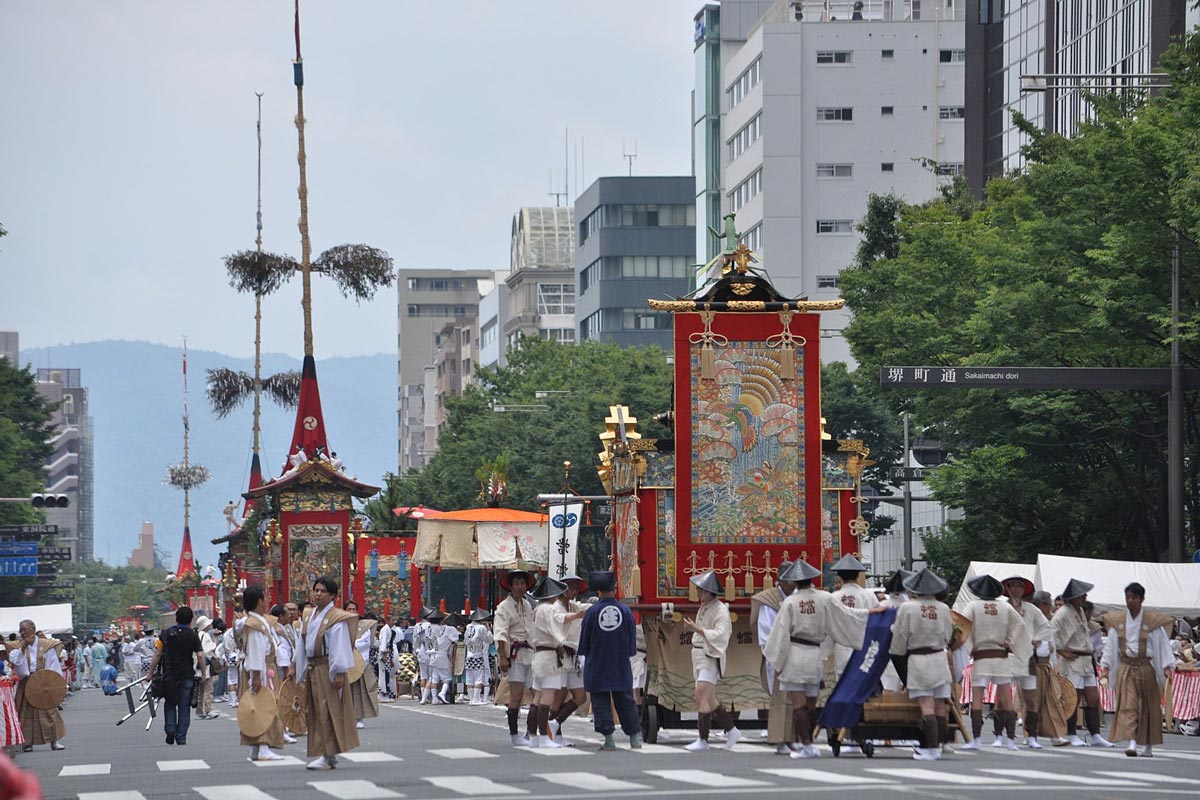 There are two types of floats: the yama and the hoko (referred to collectively as yamaboko). The latter hoko floats are the largest—some almost 25 meters tall—and the most impressive, but all are intricately decorated and impressively built from scratch each year for the festival. You can see photographs of each float here.
The route for the Yamaboko Parades differs between the 17th and 24th (known as saki-matsuri and ato-matsuri, respectively): the saki-matsuri parade starts at Shijo Station and the ato-matsuri parade at Karasuma Oike Station, from where it follows the saki-maturi parade's route but in reverse. The procession on the 17th typically sets off at 9am and finishes at 1pm; on the 24th it starts at 9:30am and ends just before midday.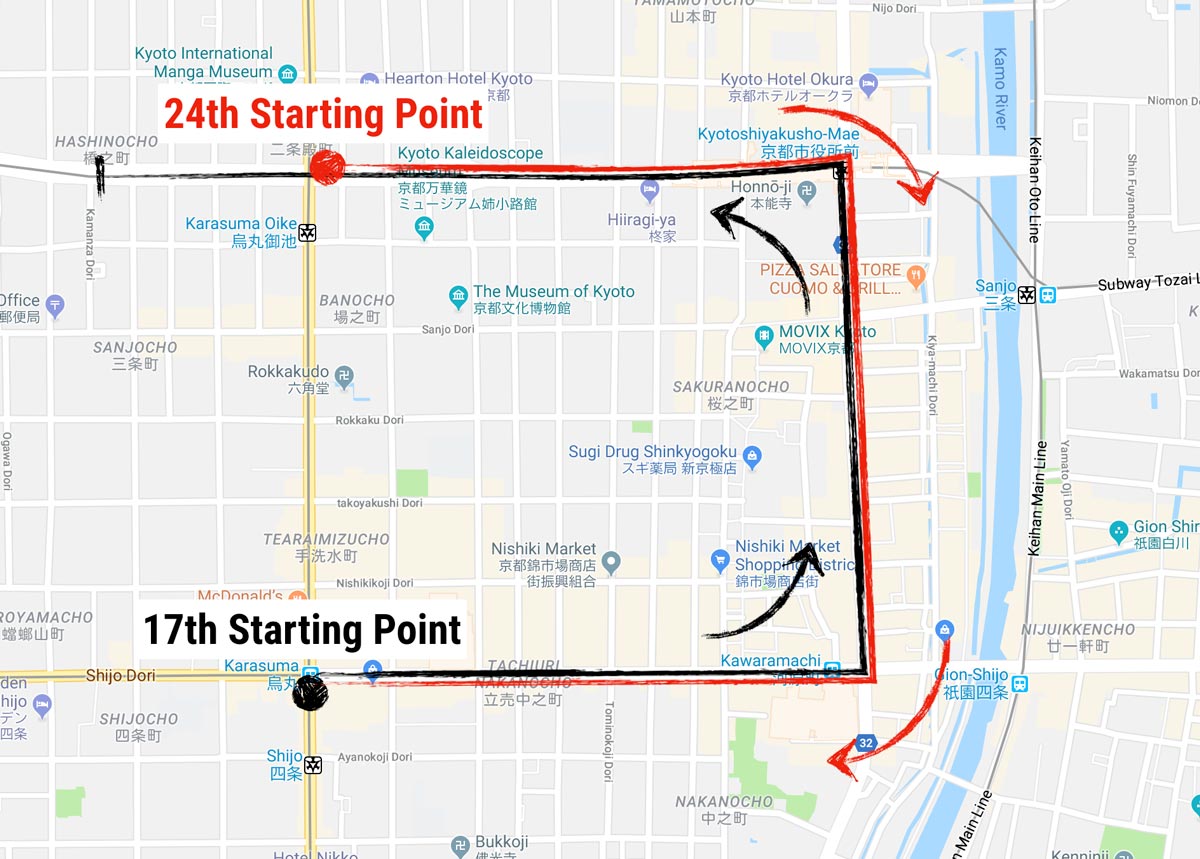 For three nights prior to each of these parades Kyoto's downtown area is pedestrianized and a very Japanese street party called yoiyama (宵山) is held. These nights are often the most enjoyable experience of the Gion Matsuri for visitors—girl's dressed in yukata, vendors selling festival fare, and the general buzz of the crowds in summer. The Yamaboko floats to be used in the parade are also on display in the streets.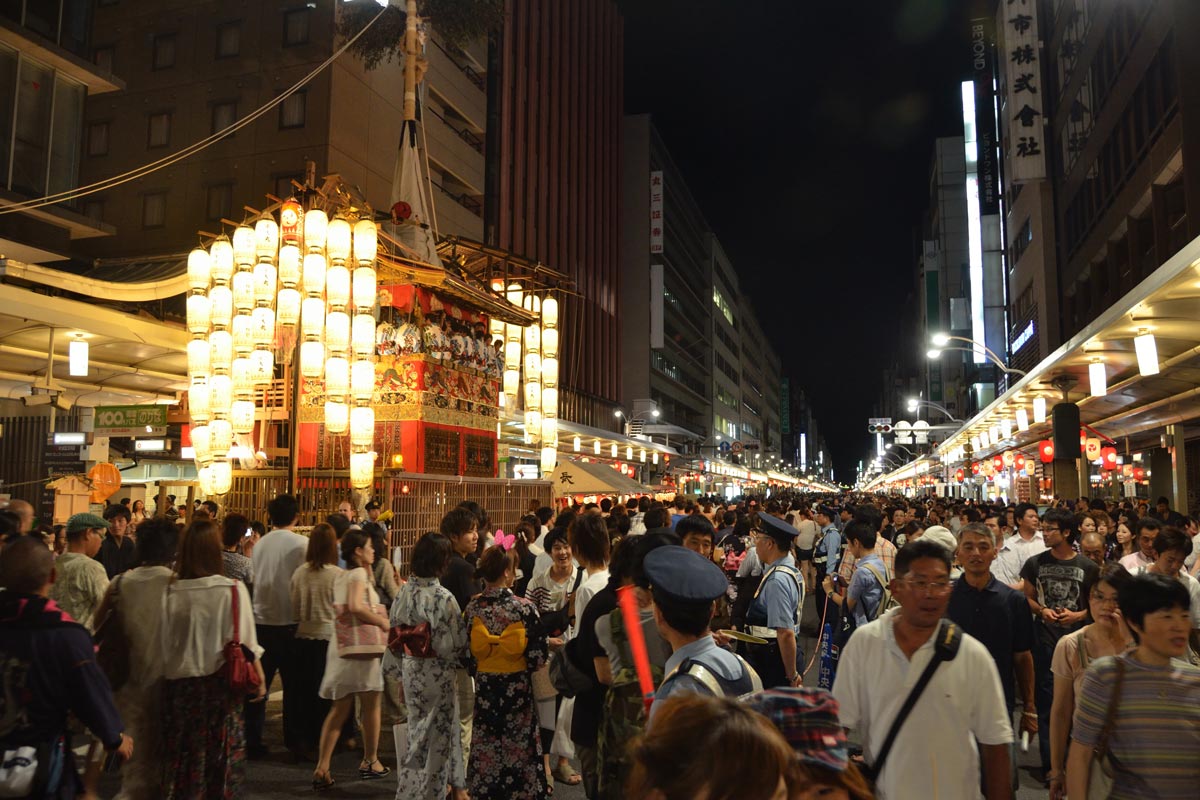 Also noteworthy is the concurrent Byobu Matsuri (Folding Screen Festival). This takes place on the yoiyama nights before the procession and sees local residents and merchants display their delicate Japanese screens (byobu) and precious family kimono in their front rooms, letting members of the public peek inside and take photographs.