Dazaifu Tenmangu Shrine (大宰府天満宮, Dazaifu Tenmangū) is one of the country's most important Tenmangu Shrines. Tenmangu Shrines are shrines that hold the spirit of Sugawara no Michizane, a Heian period scholar today worshipped as the god of learning. He is commonly referred to as simply Tenjin. In fact, there are about 14,000 Tenmangu Shrines throughout Japan, but Dazaifu Tenmangu Shrine in Fukuoka is arguably the most famous because it is built on the ground where Michizane is believed to have been buried by his follower when he passed away in 903 CE.
Michizane was born in Kyoto to a family of scholars who had long served the Emperor. He showed talent from a young age, composing Chinese poetry at the age of eleven and later entering the prestigious National Academy. By the age of 29 he was already only one rank away from his father. But the flux of power at the imperial court did not swing in Michizane's favour, and he was demoted and eventually assigned to a minor government post at Daifuku in 901—effectively exiling him from the sphere of power in Kyoto. He continued to dedicated himself to his studies, but died two years later.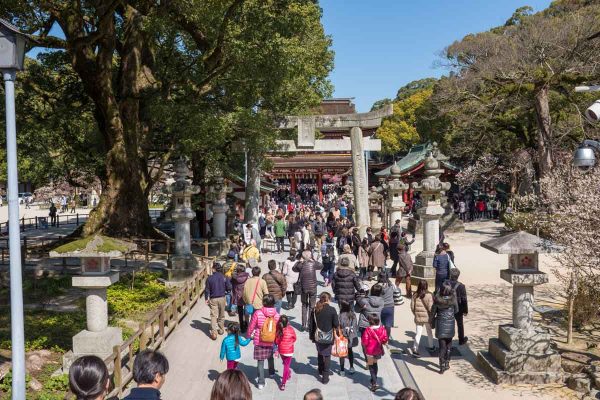 Following his death, a series of plagues and natural disasters struck the capital Kyoto—events that became to be thought of as divine retribution for Michizane's unfair treatment. He title and office was posthumously restored, and a shrine built on the ground where he was buried (Dazaifu Tenmangu Shrine).
Today there approximately 6,000 plum trees of almost 200 varieties in the vicinity of Dazaifu Tenmangu. Of these, the plum tree to the right of the main shrine (honden) is the most famous. It is called the "Flying Plumtree" (飛梅, tobiume) because legend has is that this tree flew from Kyoto to be rest by Michizane. It is also said to be the first plum tree is Japan to blossom.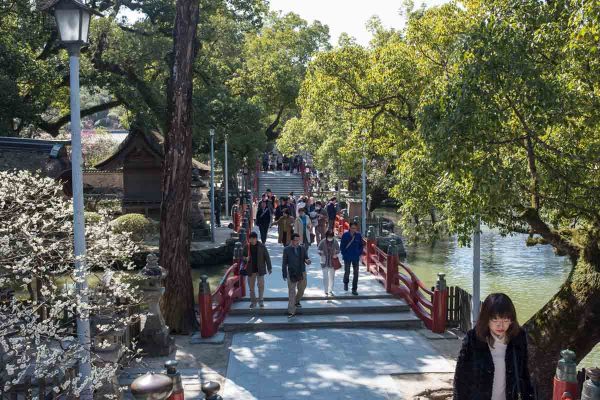 Outside of the plum season (February/March), the grounds of Dazaifu Tenmangu Shrine are still beautiful. There is a heart shaped pond with a red, arched bridges, the three sections of which are said to represent the past, present, and future, a 1,000-year old camphor tree, and a small museum built in 1928 which holds notable objects and collections of art. Also of interest for visitors is the 200-meter sloping street leading up to the shrine from Dazaifu Station, which is lined with shops selling umegae mochi (梅ヶ枝餅), a grilled azuki bean cake stamped with the pattern of a plum tree flower. Visitors can also drink matcha and purchase souvenirs.