Kanda Matsuri is held in mid-May at Kanda Myojin Shrine on odd numbered years (so intense was the festival that during the Edo period the shogun decreed it cannot take place every year). The festival is held over a 6-day period, but the main event takes place on the Saturday and Sunday: a parade through the surrounding districts of Kanda, Nihombashi, Otemachi, and Marunouchi, including floats and priests on horseback.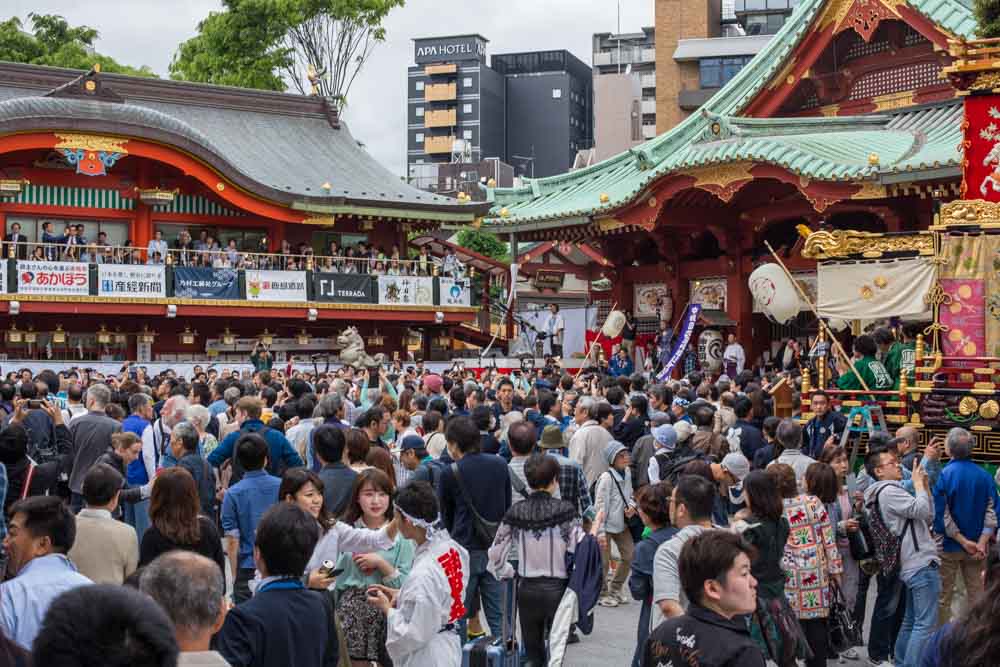 Schedule
Thursday
The first event of the festival called horen-mikoshi senzasai (鳳輦神輿遷座祭) starts at 7pm. Shinto priests dressed in white gowns perform a ritual to place the spirits of the three gods of Kanda Myojin (Daikoku, Ebisu, and Masakado) into three portable shrines.
Friday
From dusk an event is held to transfer the spirits of the gods to the 200 mikoshi owned by the 108 town councils in the area. Lanterns are hung from Kanda to Nihonbashi and Akihabara.
Saturday
The first day of the two main days of the festival. Shinkosai (神幸祭) sees the three portable shrines housing the spirits of the gods carried out of the shrine and around the surrounding area. The Uke Matsuri (附け祭) at 3pm is the most popular event—all manner of floats depart from different places around the area and arrive at Kanda Myojin Shrine around 6pm.
Sunday
Mikoshi-Miyairi (神輿宮入). Over 200 portable shrines travel around the area from dawn to dusk.
Monday
Performance on a temporary stage in the shrine's grounds from 6pm.
Tuesday
A delicate and intricate tea offering to the gods takes place at 11am.
Wednesday
Reitaisai (例大祭) is said to be one of Kanda Myojin's most important events to pray for prosperity and peace in Japan. The ceremony takes place from 2pm.