There are six major tournaments called honbasho held in Japan annually—one on each odd-numbered month—and they take place over a two-week period at one of four different venues across the country.
In Tokyo, these honbasho are held at Ryogoku Kokugikan in east Tokyo, a sporting venue mainly used for sumo events with a capacity of about 11,000. Like a boxing match, the seats all face the center ring—the dohyo—where each bout takes place. There are three main groups of seats and several categories.
Ringside Seats《溜席》
Best seats in the house: ground seating very close to the ring. These do come with a warning that for those at the very front there is a risk of injury as wrestlers are sometimes thrown from the ring and into the seated spectators, and there are also restrictions such as no eating, drinking, taking photographs, etc. (these are the seats that people will see in the background when they're watching on television).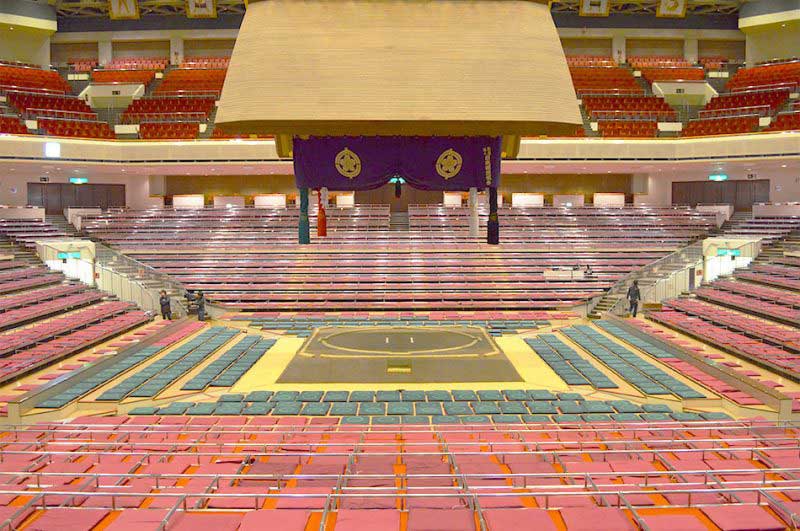 Box Seats《枡席》
A small box area with 4-6 mats. These are charged on a per guest per box basis. There are three tiers of box seats available: A, B, C with about a 20% difference in price between A and C. At some venues you may also find boxes for two people.
Photographs can be a little deceptive: these boxes, once you've got four people crammed in, are small. Unlike the ringside seats, however, you are free to eat lunch and take photographs. Indeed, many pre-order bento box sets from Ryogoku Kokigikan, some of which cost almost as much as the seat itself!
Chair Seats《椅子席》
These are located on the 2nd floor above the box seats. They are the cheapest seats available for pre-booking (¥3,800-8,500).
How do I buy tickets?
Tickets are sold via the official ticket sales site of the Japan Sumo Association (Ticket Oosumo) which is available in both English and Japanese. You should check the website well before the next tournament to confirm the date and time tickets go on sale. All tickets except for the ringside seats and general admission tickets (more on these below) are available through the official ticketing site. There is also a sales hotline for box and chairs seats but unfortunately this service is only available in Japanese. Note that there is a service fee of ¥1,000 per ticket in addition to the listed prices.
There is no need to go through an intermediary. Not only do they not sell all the types of tickets, but the only purpose these agencies serve is to allow you to "pre-book" tickets via their websites so that you don't have to be at the computer when they go on sale (they will bulk buy them). And for this they charge a pretty penny. Official ticket prices are shown here so it's easy to compare, but some of these agencies charge usurious rates, presumably feeding off the misplaced concern that some occult knowledge of the sumo ticketing system is required.
How quickly do tickets sell out?
Quickly. The most popular seats (weekend tickets, two person boxes, etc.) will typically sell out on the day. To stand a chance you'll need to know exactly which tickets you want and be ready when online sales start. Incidentally, there is a draw for a limited number of seats the month before with results announced two days before general ticket sales begins, but this service does not appear to be offered on the English page (Japanese guide here).
What if all the tickets are sold out?
All is not lost. Firstly, it's worth checking back on the website over the coming hours and days because it's not uncommon for a few seats to become available again through cancellations or late releases. Secondly, there are some re-sellers (e.g. ViaGoGo), but expect to pay. Then there's the general admission tickets. These are available from the Ryogoku Kokugikan ticket office on each day of the tournament for ¥2,200 and allow you to stand behind the last row of the 2nd floor seating. They are sold on a first-come-first-served basis and ticket sales are restricted to one ticket per person.
Getting hold of these cheap tickets involves getting up at an ungodly hour to secure a place in the queue for the ticket office before it opens at 7:45am (about one hour before you will be given a numbered slip by sales staff that shows your position in the queue). If your position is higher than the number of tickets available, you don't get one. Typically, 300-350 general admission tickets are available each day. Note that these can only be purchased with cash.
You can read more about sumo—the history and the rules—in this post.