Mar 18 / 11:00 AM
〜
4:00 PM
The Golden Dragon Dance celebrates the re-construction of the main hall of Sensoji in 1958 after it was destroyed during the air raids of the war. The name comes from the mountain associated with Sensoji Temple—Kinryu-zan (Golden Dragon Mountain)—and legend has it that when the statue of the Goddess of Mercy first appeared (the event which led to the founding of Senso-ji) a golden dragon descended from the heavens.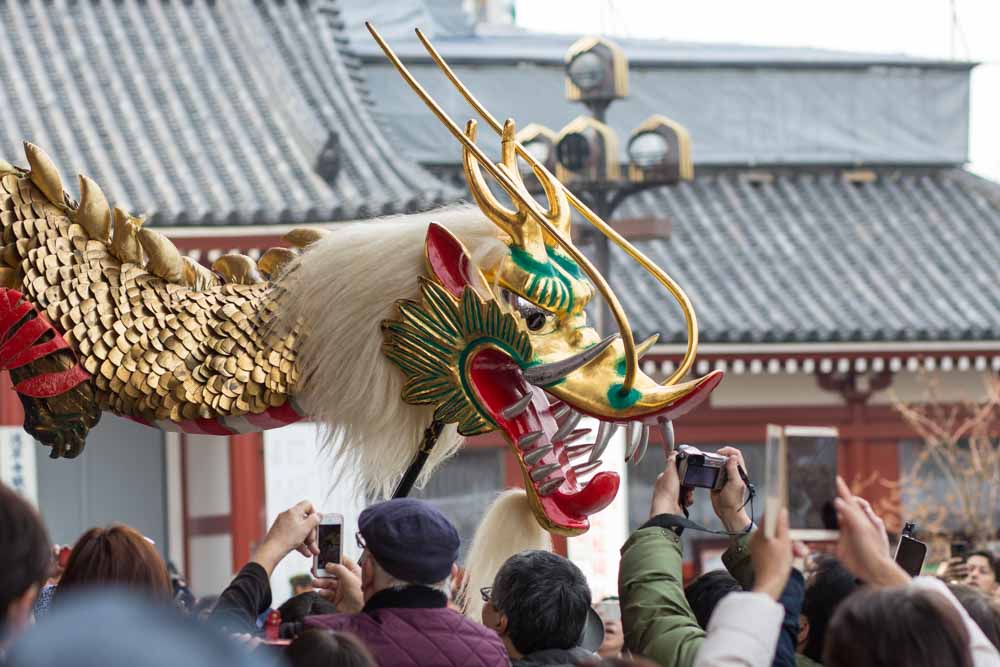 The procession starts from Denpoin Temple and slowly makes it way up to the main hall of Sensoji before going off to the west side of the temple. The dragon—which is 18 meters long, weighs 88kg and carried by 8 "dancers"—emerges first, pausing on its way to dance in front of the people who line either side of the path to Senso-ji. It is followed by a float of shamisen and flute-playing geisha.
Note that many gather in front Denpoin along Nakamise waiting for the procession to start, but the best place to view the ceremony is up on the steps of Sensoji because you will have a clear view of the dragon approaching (it also stops directly in front of the main hall to dance for 10 minutes).
The dance normally takes place at 11am, 2pm, and 3pm.